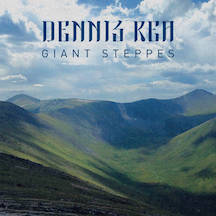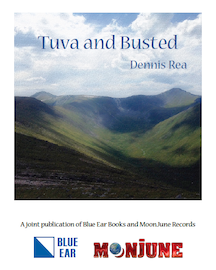 Dennis Rea
 continues his series of "musical travelogues" with 
Giant Steppes
, a boldly unconventional exploration of Central Asian music that follows on from his acclaimed 2010 MoonJune Records release 
Views From Chicheng Precipice
. The album also comes with Rea's companion book 
Tuva and Busted
, available as a 
free download
 from Blue Ear Books.
"I'll jump up on my kitchen table and proclaim that 'Wind of the World's Nest' is a stone-cold power anthem that the entire planet should hear." - Terminal City
Dennis Rea & Terrane at MoonJune International Music Festival, Jajce, Bosnia 2022
Dennis Rea & Terrane featuring Sailyk Ommun, Abakan, Russia 2019
Dennis Rea & Terrane featuring Albert Kuvezin, Krasnoyarsk Jazz Festival, Russia 2019
Dennis Rea Time-Lapse Trio, Shapeshifter Lab, Brooklyn 8.9.18

Moraine live at Ustuu Huree Festival, Tuva 7.24.15

Michael Moorcock, Nik Turner & Flame Tree at North American Space Ritual 2019, Austin, Texas


Moraine: "Skein," live at Chrome Hearts, Los Angeles


Dennis Rea with Cactus Truck, Achinsk, Russia 7.26.15


Identity Crisis with Cui Jian, Beijing, April 1991


Moraine: "Uncle Tang's Cabinet of Dr. Caligari," live at Chrome Hearts, Los Angeles
Dennis Rea's adventurous guitar playing blends jazz, rock, experimental, and world music into a vocabulary all his own, marked by haunting lyricism, enigmatic textures, agile improvisation, and the raw dynamism of rock. 

Active since the mid-1970s, Rea has led or been a key contributor to musical innovators Moraine, Iron Kim Style, Zhongyu, LAND, Savant, Flame Tree, and Earthstar, and has worked with such trailblazing musicians as Hector Zazou, Stuart Dempster, Cui Jian, Albert Kuvezin, Klaus Schulze, Steve Fisk, Han Bennink, Hawkwind members Nik Turner and Michael Moorcock, and members of King Crimson, R.E.M., Pearl Jam, Soundgarden, Santana, Ministry, Yat Kha, and the Sun Ra Arkestra. He has performed widely in the U.S. and in China, Taiwan, Russia (including Tuva), Germany, the UK, Bosnia, and Mexico. He has appeared on roughly 50 recordings for MoonJune Records, his own Nunatak imprint, and other labels. Also a writer, he is the author of Live at the Forbidden City: Musical Encounters in China and Taiwan, a chronicle of his adventures as one of the earliest progressive Western musicians to perform in China, and Tuva and Busted, an account of his further musical peregrinations in Central Asia. Rea's work has increasingly focused on bridging musical traditions from around the planet in personalized ways, as shown on his landmark albums Views From Chicheng Precipice and Giant Steppes.

In addition to his longstanding instrumental jazz-rock sextet Moraine, Rea belongs to Ben McAllister's Guitar Cult, mutant thumb-piano trio Tempered Steel, and his periodic international project Terrane. He is a co-organizer of the annual Seaprog festival and for more than a decade co-organized the long-running Seattle Improvised Music Festival.  
Dennis Rea is represented by