EARTHSTAR
 

Salterbarty Tales
Moontower Records
1979

 

French Skyline
Sky Records
1981

 

Atomkraft? Nein, Danke!
Sky Records
1982

Picture Music Vol. III
Sky Records compilation
1980




Schwingungen
Sky Records compilation
1986

Schwingungen Vol. II
Sky Records compilation
1986

 
 
Video review of French Skyline by Dereck Higgins
Studio albums
1978 Salterbarty Tales (Moontower Records)
1979 French Skyline (Sky Records)
1981 Atomkraft? Nein, Danke! (Sky Records)
1982 Humans Only (Sky Records)
Compilations
1980 Picture Music Instrumental - Vol. III (Sky Records LP sampler featuring Earthstar, Brian Eno, Hans-Joachim Roedelius, Dieter Moebius, Conny Plank, a.o.; track: "French Skyline Suite; Movement 1: Morning Song"
1985 Schwingungen - New Age Music Vol. I (Sky Records CD sampler featuring Earthstar, Brian Eno, Cluster, Harald Grosskopf, Adelbert Von Deyen, a.o.); track: "White Cloud"
1986 Schwingungen - New Age Music Vol. II (Sky Records CD sampler featuring Earthstar, Brian Eno, Cluster, Serge Blenner, Nik Tyndall, a.o.); track: "Latin Sirens Face The Wall"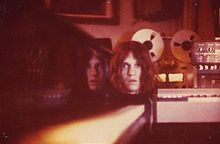 Earthstar founder Craig Wuest in 1977
CORE MEMBERS
Craig Wuest (1977–1983)

Richard Hooker (1977)

Dennis Rea (1977–81)

Daniel Zongrone (1977–82)

Daryl Trivieri (1977–81)

Tim Finnegan (1977–79)

John Bunkfeldt (1979–81)

Dan Hapanowicz (1981–83)
COLLABORATORS
Klaus Schulze (1979) – Producer, engineer, synthesizer programming, technical advice

Norm Peach (1977–79)

Louis Deponté (1978–81)

Phil Novak (1978–79)

Marla Thomson (1978–79)

Melanie Coiro (1979–81)

Rainer Böhm (1979–81)

Christoph Lagemann (1979–81)

Dirk Schmalenbach (1979) – Sitar

Eberhard Renne (1979) – Mixing, echo advice

Martin Burdette Martinez (1979–80) – Electric guitar

Gert Anders (1979–80) – Engineer
Wikipedia Entry on Earthstar
From
Wikipedia entry on Earthstar
:
"Earthstar was an electronic music group originally from Utica, New York, in the United States. Earthstar was encouraged by Krautrock/Kosmische Musik/electronic music artist, composer, and producer Klaus Schulze to relocate to Germany where they were signed by Sky Records. Schulze produced their second and most successful album, French Skyline. Earthstar is notable as the only American band who participated in Germany's Kosmische Musik/electronic music scene while still at its height.

"1977–1979 (Utica and Moontower)

"Earthstar was the brainchild of keyboardist/synthesist Craig Wuest. A native of Utica, New York, Wuest was heavily influenced by the German electronic music scene of the 1970s, including Klaus Schulze, Popol Vuh, Tangerine Dream, Kraftwerk, and Harmonia. Around the same time, Utica guitarist Dennis Rea had founded what he describes as an 'eccentric progressive rock band,' Zuir. According to Rea, '...being the only two adventurous music acts in town, collaboration between Craig and the members of Zuir was inevitable.' Earthstar was born out of the partnership of Wuest, Rea, and two other members of Zuir: bassist Norm Peach and drummer Daniel Zongrone, plus other Utica-area musicians, including Richard Hooker, who participated in the group's first live performance. In 1977 Earthstar was signed by Nashville-based Moontower Records, who released the group's first album, Salterbarty Tales, the following year. Earthstar also began recording its second album, French Skyline, in Utica in 1978.

"Rea also recalls concerts during the Utica period: 'The group performed live only a handful of times, mostly at inappropriate venues like roadhouse bars and college beer halls, with predictable results.'

"1979–1983 (Germany and Sky)

"Craig Wuest was an admirer of electronic music pioneer Klaus Schulze, with whom he struck up a correspondence. Schulze encouraged Wuest and Earthstar to come to Germany, intending to sign them to his Innovative Communications record label. Wuest sold his grand piano, which had played a prominent part on Salterbarty Tales, to finance the move. Other Earthstar musicians joined Wuest in Germany to continue work on French Skyline, which they originally intended to complete in March, 1979. Issues with gathering the musicians together delayed recording sessions until late spring.

"Guitarist Dennis Rea describes his own decision to travel to Germany in his 2006 book Live At The Forbidden City: 'I was one of several old Utica mates invited to participate in the project. Since the prospect of making a record with international music luminaries was an offer I couldn't refuse, I dropped my plans to attend music school and instead spent half a year in the countryside near Hanover working on Earthstar sessions...'

"While much of French Skyline was recorded at Klaus Schulze studios in Hambühren, West Germany, with additional recording taking place at IC Studios in Ovelgönne, Schulze's label never signed Earthstar. The group's next three albums were released by Hamburg-based Sky Records instead, beginning with French Skyline in 1979, which was co-produced by Schulze and Wuest. Schulze's influence on Earthstar and Wuest is clearly heard on French Skyline, with reviewer Victor 'Philip' Parau describing Earthstar at the time as 'granted a classic place' within 'the Berlin School electronic sessions.'

"Earthstar's second album for Sky, Atomkraft? Nein, Danke! (literally 'Nuclear power? No, thank you!'), was an environmental tone poem. The album was recorded in 1979 and 1980 and was released on February 1, 1981. The Planet Mellotron Web site describes it as 'more laid back' than French Skyline and '...an ideal opportunity to hear the rarest tape-replay instrument,' the Birotron. Atomkraft? Nein, Danke! was the last album to feature many of the core musicians that had been part of Earthstar's earlier efforts in Utica, including Dennis Rea, who moved to New York City in 1983 and is now active in Seattle.

"In 1980 the same lineup that had just created much of Atomkraft? Nein, Danke! also recorded an entire album's worth of material that was never released. The album, to have been titled Sleeper, the Nightlifer, featured a string section (and even vocals) and represented a marked stylistic shift for the band, with influences ranging from Mike Oldfield to contemporary minimalist composers to ECM jazz.

"A third album for Sky, Humans Only, was recorded in 1981 and released the following year. The album was the result of a partnership between Wuest and Utica-based guitarist and songwriter Dan Hapanowicz and presented a far more conventional, softer, more guitar-oriented sound than previous releases. One track from the Sleeper, the Nightlifer sessions,'"Indian Dances,' was rerecorded for Humans Only in a shorter, somewhat pared down version."