Identity Crisis review in Sichuan Youth Newspaper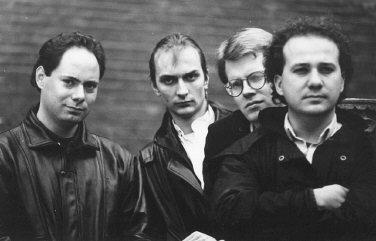 Photo of Identity Crisis in Chengdu by Xiao Quan

 
Sichuan Youth Newspaper:
Identity Crisis in Chengdu: Music Makes It All Come True 

By Yang Bing
Sichuan Youth Newspaper, May 21, 1991

Maybe it's the lure of Sichuan itself, or perhaps it's the spirit of this city, its people, and its music which brought the band Identity Crisis to Chengdu. Founded by three American musicians and one German musician, Identity Crisis brought their fascinating, unique sound to Chengdu last month, speaking to us through the universal language of music.

For an all-too-short ten days, thousands of people here in Chengdu flocked to their concerts and enjoyed their sounds. Chengdu Television's "Weekend Edition" also did a special feature on the band, and China Records was quick to get Identity Crisis into the studio to record an album.

Identity Crisis covered all the bases at their shows, performing many styles of Western and Eastern music, from contemporary to classical. Their philosophy is that each style has its own strength of character, and by performing diverse styles they can get closer to a core understanding of the living spirit of music. Among the selections which Identity Crisis has composed or arranged can be found jazz, rock, and Chinese traditional music. At each of their performances the band received explosive applause, particularly for new arrangements of such Chinese folk classics as "Mu Yang Qu" and "Yizu Wuqu."

This group of musicians finds Chinese music deeply fascinating and intricately beautiful. The fusion of Chinese and Western music is among their greatest interests.

Guitarist and lead singer Dennis was at Chengdu University of Science and Technology last year teaching English. During this time he was greatly influenced by Chinese music and wrote new arrangements of "Hong Bo Qu," "Yizu Wuqu," and others. At this time he also composed "Chengdu Blues," "Hot Pot," "Chopsticks Variations," and other contemporary pieces, as well as recording his first solo tape, Shadow in Dreams. Last month, Dennis added his arrangement of the theme to The Last Emperor to his repertoire.

Band members Andreas Vath, Bryce Whitwam, and Tom Vest handle the bass, keyboards, and drums, respectively. They have all studied Chinese and have a great interest in Chinese culture.

The group says that coming to China was a long-held wish come true. The exchange of music and ideas, making friends, playing with Chinese musicians, and working among the Chinese creative community has been an unparalleled experience for them. In the course of their independently produced tour, Identity Crisis performed with Cui Jian and Liang He Ping and played four or five concerts in Beijing. The band gave another five free concerts in Chengdu, at Chengdu University of Science and Technology, Western Medical University, and Electrical University. Their concerts were an unbroken chain of successes closing the gap between East and West and building a bridge between us and them.