Reflections on Sonic Rock Solstice 2016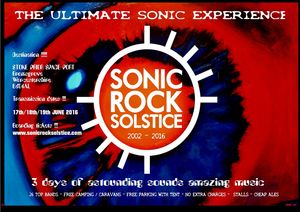 Before heading off to England to play the
Sonic Rock Solstice
festival with
Nik Turner & Flame Tree
– and especially after learning that an additional London date had been canceled on short notice – I found myself asking what kind of fool would spend a small fortune flying halfway around the globe to play a single gig that wouldn't offset a fraction of my outlay. Instead, I received a wonderful reminder of why great music, great people, and transnational experiences bring rewards that far outweigh mere economical calculation.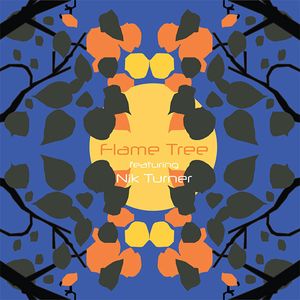 The invitation to play the Sonic Rock Solstice gathering coincided with the release of
Flame Tree featuring Nik Turner
, a new CD of bracing in-studio improvisations foregrounding the Hawkwind co-founder's saxophone and flute alongside Seattleites
Jack Gold-Molina
on drums,
Paul "PK" Kemmish
on upright bass, and myself on guitar, released by Los Angeles-based Cleopatra Records under Nik's Purple Pyramid imprint. This initial casual collaboration in 2013 later led to a concert by an expanded 'all-star' Flame Tree lineup at Seaprog 2015, where we presented a career retrospective covering Nik's various involvements over the years, and eventually the Flame Tree CD release and then our Sonic Rock Solstice appearance, the latter made possible by the presence of Jack Gold-Molina in London for a summer graduate-school internship. It was just the sort of serendipitous chain of events that, quite frankly, I live for.
(A cautionary note about the name Flame Tree: Jack saw the term used in something he read and found it very evocative of the sort of music we're playing. Just after the CD was released, Jack traveled to Cambridge for a weekend – and got evacuated from a burning hotel in the middle of the night, losing several important items to the fire. Meanwhile, the tiny cabin I own in the North Cascades mountains of Washington State was closely threatened by catastrophic wildfires in both of the past two years. Think twice before choosing your band name!)
It always surprises me how few of my otherwise musically astute friends are aware of
Hawkwind
and their outsize influence on multiple streams of rock music that followed in their wake. Forged in the musical and political ferment of late 1960s London, Hawkwind, along with their peers The Pink Floyd, were the progenitors of what came to be called space rock, and were synonymous with psychedelia in every sense of the word, with their signature heavy British rock laced with lysergic synthesizer interjections, and the presence of celebrated science-fiction author
Michael Moorcock
as the group's muse. A version of the band led by Dave Brock carries on to this day, while Nik has followed a roughly parallel trajectory with bands such as Space Ritual, Sphynx, Inner City Unit, and now Flame Tree. Hawkwind inspired the formation of countless bands that carried forward the space-rock ethos, not to mention being the cradle for future Motörhead force of nature
Lemmy Kilmister
. As one who listened to Hawkwind as a budding teenage hippie around the turn of the '70s, I get a huge kick out of somehow finding myself a part of the band's extended family all these years later.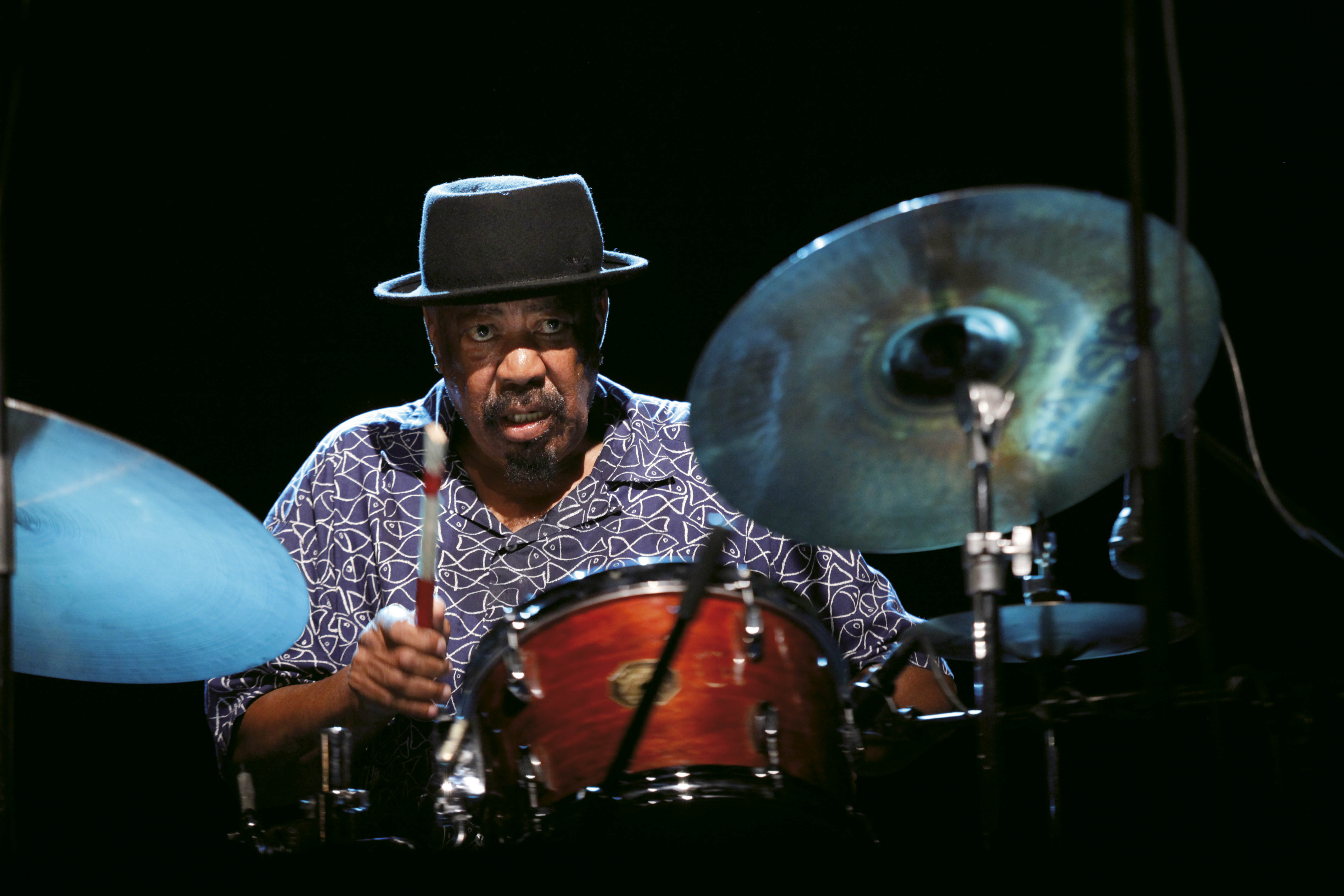 Louis Moholo-Moholo
My arrival in London, fully 30 years after my last visit to the UK, got off to a splendid start when I caught a rare appearance by one of my musical heroes, the protean drummer
Louis Moholo-Moholo
with his band
Five Blokes
, at venerable jazz institution Ronnie Scott's. Moholo
2
was originally a charter member of the legendary
Blue Notes
, a pioneering jazz combo in their native South Africa in the '60s – pioneers not only musically, but also for being the first multiracial jazz group in Apartheid South Africa. After enduring persecution from the regime in their native land, the Blue Notes took advantage of a jazz festival invitation to decamp first to Switzerland, then later to London, where their arrival was tantamount to a bomb going off in the British jazz scene, forever influencing both the British jazz mainstream and the free-improvising avant-garde. The original Blue Notes soon evolved into multinational little big band the
Brotherhood of Breath
, one of the most hugely exciting ensembles in the history of jazz, with their then unprecedented melding of free jazz with African musical traditions. Tragically, every single member of the Blue Notes left the planet far too early, leaving Louis the sole remaining survivor for the past several decades, which made the London gig I attended all the more poignant and life-affirming. Interacting with musicians less than half his age, the master drummer led a joyous romp through choice tunes from the Blue Notes and Brotherhood songbooks – hot damn!
I slept off my jet lag until noon the next day, then spent an afternoon striding around Soho and other districts, discovering gems like the marvelous Sounds of the Universe record shop run by the great London-based Soul Jazz Records label, where one can find such unlikely oddities as a seven-inch vinyl single(!) from the wonderfully weird 1970 collaboration between Don Cherry and academic electronic composer Jon Appleton. That evening Jack and I met up with our bassist for the SRS gig,
Nazar Ali Khan
, a regular collaborator of Nik's in aggregates like Inner City Unit and Outriders of the Apocalypse, for our single practice session at a for-hire rehearsal studio-slash-performance space in northeast London, with encouraging results. The next day I hoofed about for a good 20 miles or more, admiring the monumental architecture and the polycultural populace that makes up twenty-first century London. In the evening I observed the quintessentially London ritual of going to the theater, in this case a much-acclaimed stage adaptation of George Orwell's
1984
; it was a stunning and disturbing presentation worthy of the novel that inspired it, viscerally enhanced by jarring sound and lighting effects. The day ended with a memorable repast at London's oldest Punjabi restaurant and a long walk back to my hotel with a bellyful of beer. Fortunately I had no awareness as yet of what had taken place earlier that day, that is, the shocking assassination of popular member of Parliament Jo Cox by a right-wing monster, an event that shook Britain to its core on the eve of a momentous vote on whether to continue the country's membership in the European Union.
On the morrow it was off to Bromsgrove, a small town a half-hour outside Birmingham in the English Midlands and the site of this year's SRS. I was amazed at how quickly the high-speed Virgin train (Branson's got his hands in everything, it seems) traversed the considerable distance – not the first time I noted how the UK's rail system renders our Amtrak an embarrassment, and how London's transit system puts provincial Seattle's to shame.
Now in its 15th year, Sonic Rock Solstice is one of the last surviving remnants of the Free Festival phenomenon that arose in the UK's psychedelic heyday. Spontaneously birthed in reaction to the increasingly commercialized mainstream rock festivals with their ever-escalating ticket prices and rising bullshit factor, the Free Festivals were defiantly free not only in the monetary sense, but also in their embrace of freewheeling lifestyles and philosophical/spiritual outlooks (not to mention liberal use of LSD). Nik Turner avers that the phenomenon arose from the counter-festival that sprang up outside the enclosure of the massive Isle of Wight Festival in 1970, where Hawkwind regaled a large number of acidheads for hours in a large, inflatable tent (that later collapsed on them); among the intrigued visitors who stopped by were Jimi Hendrix and Miles Davis. From that point on, the Free Festivals became a long-running presence in Britain's cultural landscape, rallying points for a growing tribe of establishment dropouts who spent each summer roving from festival to festival across the British countryside, living out of tents and caravans (RV campers, in American parlance). The festivals united thousands in a common cause, but also drew plenty of heat in the form of police repression. Hawkwind were generally considered the house band of the Free Festival movement, in large part due to their willingness to perform without payment for any worthy cause, but equally on account of the suitability of their all-enveloping, trance-inducing music to such assemblies. While the movement took a beating during the Iron Lady Thatcher's oppressive reign, it continued with some force right into the raving '90s, and arguably to this day in the form of Sonic Rock Solstice and a handful of similar events which, while no longer free due to encroaching economic realities, clearly embody the idealistic spirit of their predecessors.
Sonic Rock Solstice is the love child of organizer
Martyn Hasbeen
, a benevolent presence who has tirelessly shouldered the organizational burden since its inception. This year's event took place at the Stoke Prior Sports & Country Club (rebranded a "Spaceport" for the occasion), a rented venue on the rural outskirts of Bromsgrove in Worcestershire that had all the essential ingredients for an event of this sort: expansive grounds for camping, a capacious indoor stage (which proved necessary due to the weather), and of course a bar. The event attracted vendors of everything from t-shirts (Hawkwind and Gong tees were particularly in evidence) to vegan nut-roasts and drew an audience of perhaps 300 souls, spanning multiple generations ranging from grizzled veterans of the halcyon days to their now-grown children to curious millennials. Some attendees hailed from as far away as Russia and Australia.
Arriving at the festival on Friday, I immediately fell in with the 'security' detail – fittingly as in the '60s, a motorcycle club who went by the name of Salutations MCC. (I was later informed that the worst security incident ever to take place at SRS had come when a drunken reveler vomited in his mate's tent.) These hale fellows made the American guest feel right at home, plying me with a steady stream of tall John Smith beers and salty conversation, including the inevitable WTF questions about Donald Trump. I repaid their generosity by replenishing their beer stash on Sunday, no doubt ensuring me the Salutations' protection should I ever get into a scrape.
I took in about two-thirds of the 25 bands on the bill and was very impressed by the consistently high caliber of musicianship on stage. While the lineup was heavily tilted toward overtly psychedelic units with names like The Sacred Geometry Band, The Alice Syndrome, and Anubis, it also included erstwhile New Wave diva Lene Lovich, primordial punk outfit The Vibrators, veteran UK metal band Quartz, and the strident political folk of The Adverts' TV Smith. It was heartening to see that the genre wars of yore, where bands like these could never have shared a stage without bloodshed, much less under the banner of "psychedelic rock" (every band was bathed in projections worthy of the Dead or Floyd), had evidently been laid to rest. The audience took it all in without prejudice (imagine that happening in Seattle) and were very generous in their show of appreciation, with much trance-dancing and shambolic movement on display. I was especially bowled over by
Terminal Cheesecake
, a veritable firestorm of psychedelic energy driven by heavily processed vocals;
The Sacred Geometry Band
, a hyperkinetic dreamachine of a band fronted by mesmerizing singer
Karen Langley
; the deep space-rock of
Pre-Med
; and the rich, ringing dual guitars and meaty hooks of
The Bevis Frond
.
Lene Lovich
and band also delivered a wholly captivating set of her trademark art-cabaret stylings.
Musically, the weirdest bunch of the lot proved to be Flame Tree, with our unholy mélange of free jazz, experimental noise, and broken grooves. Ever since our participation in SRS had first been mooted, I'd had my doubts as to how well our defiantly abstract and – horrors! – jazzy stream-of-consciousness extemporizations would go down with an audience largely primed for beat-driven rock. Our record had been wholly improvised and was a far cry from rock music, psychedelic or otherwise. Jack floated various set plans beforehand based around some pieces from Nik's recorded oeuvre, but the tracks in question were relatively formless as well. In the event, Nik wisely advised that the rhythm section plot a reasonably steady course to ground the front line's improvisational forays. He also suggested the last-minute addition of an analog synthesist,
Nigel
, whose hallucinogenic interpolations greatly enhanced the collective vibe. Despite my initial apprehensions, I felt that we delivered a solid, varied, and musically cohesive set that was well received by the audience – admittedly a smaller crowd than had taken in the more mainstream acts, but like I said, we were about as weird as the entire weekend got. I was quite satisfied with my own contributions to the sonic tapestry, though I reportedly got short shrift in the mix. A video recording of our set is said to be forthcoming.
Once the last band wrapped up on Sunday night, I was genuinely disappointed that the Sonic Rock Solstice experience was over, for now. It's no glib platitude to say that it was one of the most enjoyable communal experiences I've ever enjoyed, thanks largely to the tremendously warm and open clan of perennial attendees who sustain this vital event's continued existence. The SRS faithful refer to themselves as a family, and it's easy to see why; if only there were more loving, open-minded communities like theirs in this darkening world.
Returning to London for a final day, I visited the glorious, newly redesigned Tate Modern art museum and capped off a memorable trip in a most delightful way, by catching up with one of my oldest and dearest friends,
Katie O'Looney
, over numerous beers on a pleasant sidewalk
terrasse
. Now a resident of Ireland, she serendipitously just happened to be in London on that day; we hadn't seen each other in 29 years.  
                                                                                    *                                           *                                           *
On the way back to my hotel after the last night of Sonic Rock Solstice, the taxi driver asked what had brought me to Bromsgrove. I explained that I had come from Seattle to play a small music festival. I could see in his face that he was struggling to comprehend the logic of such an endeavor. At length he asked, "You came all this way just to play a music festival? Isn't that expensive?" I didn't expect him to understand that the experience had been beyond any price.
Special thanks to Jack Gold-Molina for lighting the Flame Tree fire; Nik Turner for inviting me into his world, and for his generosity of spirit; Nazar Ali Khan for his crucial bass work and organizational efforts; Nigel for being the icing on Flame Tree's sonic cake; Martyn Hasbeen for kindly taking us on board the SRS craft, and for his Herculean efforts to keep the festival afloat all these years; Salutations MCC for the warm welcome and numerous John Smith tallboys; and Katie O'Looney and Robin Trankina for the marvelous camaraderie and conversation.