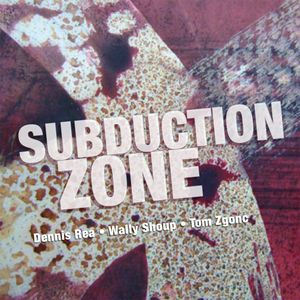 Cover art by Wally Shoup
Dennis Rea, Wally Shoup & Tom Zgonc:Subduction Zone
Nunatak 001
Dennis Rea: electric guitar
Wally Shoup: alto saxophone
Tom Zgonc: drums

Featuring guitarist Dennis Rea (Moraine, Iron Kim Style, Land), alto saxophonist
Wally Shoup
(Thurston Moore, Nels Cline, Chris Corsano, Paul Flaherty), and drummer
Tom Zgonc
(Pornadoes, Moraine, Figeater),
Subduction Zone
captures three of Seattle's most distinctive instrumentalists in uninhibited full flight. This improvised outing finds the highly simpatico trio in rare form, serving up everything from hyperkinetic fusion to noir jazz to eldritch experimentalia, in a panoply of incandescent sounds.
Subduction Zone
is primarily an online release, available for download at the links listed below and all the usual online retailers. A very small number of physical discs have been pressed and will be available at our respective gigs.  
"This is pull-out-the-stops freedom of an advanced sort. There are seven collective improvisations on the disk, all fully charged with high-voltage expression. Shoup gives forth with the emotive wails, fanfares and hard-scrabbled sax work appropriate to the genre. Zgonc applies an all-over rock-heavy leverage to the sound, in multi-layered torrents of freetime. Dennis excels in a highly electric, heavily sound-colored series of onslaughts that alternatively soar, break up into fragments of noise patterns, and provide a melodic and textural outness that helps give the trio a specific, distinctive sound ambiance. This is avant improv of the swashbuckling sort. They move together in cohesive directions. They go for the big sound. And they do it all with a sense of drama that gets your attention and keeps it riveted throughout. If you love adventure and electricity, Subduction Zone will be a place you'll want to visit frequently." - Grego Applegate Edwards,
Gapplegate Guitar & Bass Blog
(
link to review
)
"THE album of the year for me.... A dense pack of emotions and sounds created by three brave men. Dennis Rea on electric guitar is leaking blood, Wally Shoup on alt[o] is holding the guns and ca[n]nons and Tom Zgonc stands on the hill hammering the gong before the three of them start to run on their wild horses into the Roman camp, in a clear goal to cause a harmless mess and then return home. I'm sorry, that's the best image I had for this album." - Yair Yonah,
Smalltown Romance
(
link to review
)
"All three of these players are impressive and get a chance to stretch out and push each other higher and higher. ...  the drummer here, Tom Zgonc, is a new name for us and is quite a powerful and crafty player ... guitarist Dennis Rea sounds inspired, diverse and filled with many ideas throughout this entire disc. Although this disc is mostly (wholly?) improvised, it often doesn't sound that way!" - Bruce Lee Gallanter, Downtown Music Gallery, NYC (
link to review
)
"Subduction Zone is where free jazz and avant rock intersect. Rea's approach to the electric guitar is definitely rooted in the rock arena with the use of effects such as delay and assorted pedals. Shoup is an expansive player from the world of free jazz; and Zgonc is a sympathetic and supportive ally in this unusual improvisational mash-up. ... the third track, 'Third Lung,' ... soars so unexpectedly it takes a few seconds to recover from it.... The highlight is the last track, 'Memories of Mitchell,' that is so lumbering and spacious in its build-up you almost hope it never peaks. To the group's great credit, it isn't a letdown when it does manage to finally reach the climax." - Tom Burris,
The Free Jazz Collective