Moraine have built a reputation as an electrifying, wide-ranging instrumental band, gaining an international audience with their unique amalgam of art rock, forward-thinking jazz, Asian-inspired music, and more.

Balancing inventive composition with exploratory improvisation, the Seattle-based unit has performed in major U.S. cities on both coasts, in Mexico and Siberia (including Tuva), and at notable festivals such as NEARfest and Baja Prog. In 2019 the band was honored to open several U.S. shows for the legendary Soft Machine. Moraine's three releases on MoonJune Records (two co-produced by fabled Pacific Northwest sonic mage Steve Fisk) have garnered hundreds of enthusiastic reviews worldwide. Moraine has also performed with such globally significant artists as trombone virtuoso Stuart Dempster, Mexican avant-folk phenomenon Cabezas de Cera, traditional Korean master musician Young Sub Lee, protean Russian bassist Wadim Dicke, Swiss vocal duo Eclecta Forever, and ECM artists Lionel Friedli and Nicolas Stocker.

Dennis Rea (guitar) • Alicia DeJoie (violin) • James DeJoie (woodwinds) • Ruth Davidson (cello) • Phil Cali (bass) • Brian Oppel (drums)
Love and abiding respect to Morainians emeritus Jay Jaskot, Kevin Millard, Stephen Thomas Cavit, and Tom Zgonc
Management: MoonJune Music International

All photos except Brian Oppel (c) Joe del Tufo / Studio M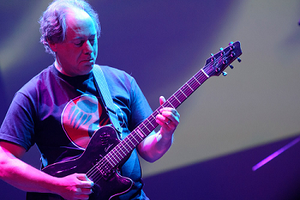 Dennis Rea's adventurous guitar playing blends jazz, rock, experimental, and world music into a vocabulary all his own, marked by haunting lyricism, enigmatic textures, agile improvisation, and the raw dynamism of rock. 

Active since the mid-1970s, Rea has led or been a key contributor to musical innovators Moraine, Iron Kim Style, Zhongyu, LAND, Savant, Flame Tree, and Earthstar and has worked with such trailblazing musicians as Hector Zazou, Stuart Dempster, Cui Jian, Albert Kuvezin, Klaus Schulze, Steve Fisk, Han Bennink, Hawkwind members Nik Turner and Michael Moorcock, and members of King Crimson, R.E.M., Pearl Jam, Soundgarden, Santana, Ministry, and the Sun Ra Arkestra. He has performed widely in the U.S. and in China, Taiwan, Russia, Germany, the UK, and Mexico. He has appeared on roughly 50 recordings for MoonJune Records and other labels. He is also the author of Live at the Forbidden City: Musical Encounters in China and Taiwan, a chronicle of his adventures as one of the earliest progressive Western musicians to perform in China, and Tuva and Busted, an account of his further musical peregrinations in Central Asia. Rea's work has increasingly focused on bridging musical traditions from around the globe in personalized ways, as shown on his landmark albums Views From Chicheng Precipice and Giant Steppes.

For more information, see the Dennis Rea website.
---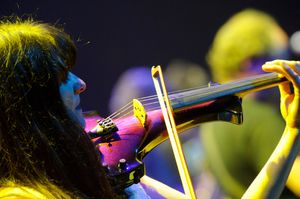 Born in Nashville, East Coast native Alicia DeJoie moved to Seattle in 1994 and soon began playing electric guitar and violin in local bands Big Sister and X-tra Virgin. She has recorded and toured the country with Jeremy Enigk, performing works from his solo album, Return of the Frog Queen. In addition to Moraine, she often plays violin with singer-songwriter Eric Apoe, and is a member of the Mahavishnu Orchestra tribute band Being John McLaughlin. In 2013, Alicia had the honor of participating with Seattle's legendary trombonist Stuart Dempster in a performance for Doug Aitken's art exhibition opening, MIRROR, at the Seattle Art Museum, which included an outdoor performance of Steve Reich's "Clapping Music," as well as performing in Terry Riley's minimalist piece "In C." In 2015, Alicia performed at Seattle's esteemed Seaprog festival with Nik Turner, original saxophonist and vocalist of British space-rock band Hawkwind.
---
James DeJoie hails from Seattle and revels in bringing together diverse musical genres in distinctive combinations. Through his use of electronics and world-influenced rhythms, James writes and performs music that broadens the scope of what may be defined as "jazz." He is equally fluent on baritone and alto saxophones, clarinet, bass clarinet, flute, and percussion. In addition to playing in and composing for his wide-ranging musical groups including joiephonic ad Ramen Trio, James has also contributed to such top-flight Seattle based ensembles as Wayne Horvitz and Robin Holcomb's Washington Composers Orchestra, Tom Varner's Nonet, Daniel Barry's Walk All Ways, and the world-renowned Jim Knapp Orchestra. He is also active performing classical music and was the featured soloist in a Baritone Saxophone Concerto written for him by composer David Gaines, which he recorded with the Slovak Radio Symphony Orchestra in Bratislava in 2008.
---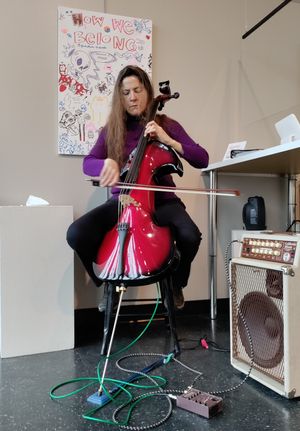 Multi-instrumentalist and composer Ruth Davidson has been active in the underground / DIY music community most of their adult life. A native of Duluth, Minnesota, Ruth spent much of their childhood enjoying classical training in cello, guitar, piano, voice, and theory. After graduating high school, they were drawn to the cultural flexibility and community spirit of the DIY music world, where they have been active for over 20 years as a performing/recording artist and community/events organizer. Ruth's body of work reveals command of a large and versatile music vocabulary ranging from crust and noise rock to subdued and intricate lo-fi composition and free improvisation. Groups where Ruth has been a regular member as a bass guitarist, guitarist, and cellist include Gods Among Men, Moraine, Scary Bear, Victory Garden, Now Over Ever, Rendition, and Worldwide Levitation. They have also contributed to many recordings as a guest cellist or guitarist.
---
Phil Cali (bass - bio forthcoming)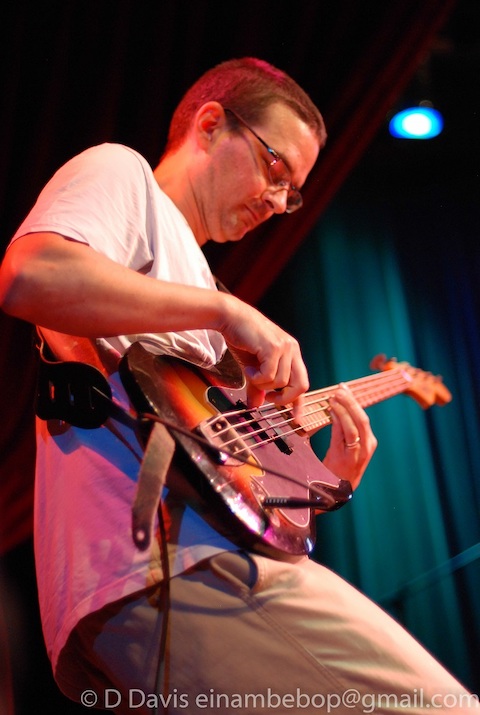 ---
---
As a product of rural America, Brian Oppel was raised on AM gold, FM rock radio, and his family's copious record collection. Devoted listening led to music fandom, and the urge for a creative outlet was spawned. Clearly only the drums would do. Beginning with school band, then proceeding on to backwoods bar bands, then through classical and world percussion studies at the University of Montana, Brian became the drummer of choice for a slew of rock, folk, punk, and jazz groups in his formative years. A move from Missoula to Seattle in 1999 proved to be fruitful in his quest for musical and artistic diversity.  Clearly unable to decide on any particular musical style, he has happily been enlisted in a plethora of original music projects. Currently sinking his teeth into the giant geological prog biscuit of Moraine, Brian's other recent projects include Trimtab, Kled, Resets, and The Plaid Perspective.
---
Morainians emeritus: Jay Jaskot, Kevin Millard, Stephen Thomas Cavit, Tom Zgonc, Wadim Dicke, Lionel Friedli, Onno Govaert